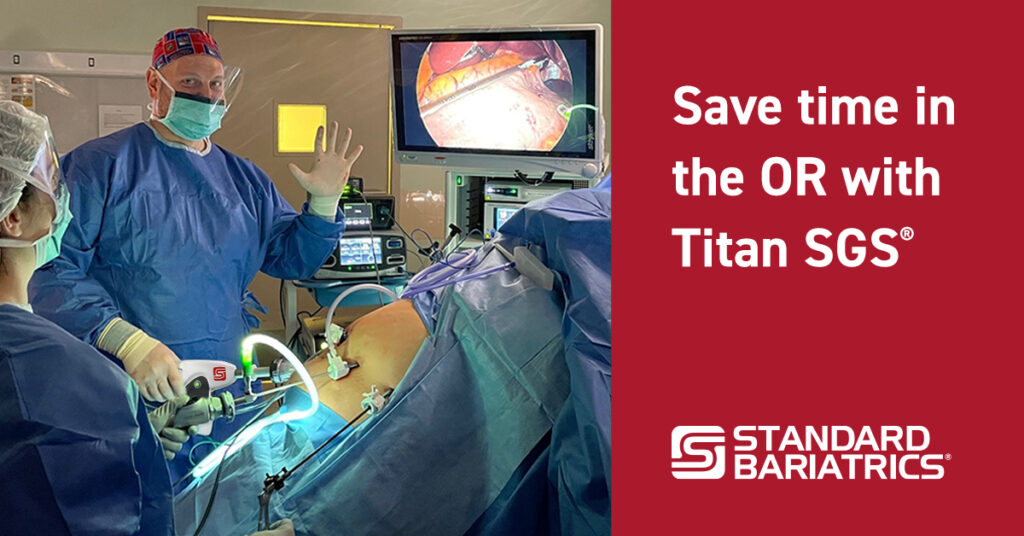 Michael J. Jaronczyk, MD, FACS, of the RWJBarnabas Health Medical Group in New Jersey, performs a sleeve gastrectomy using the Titan SGS® stapler from Standard Bariatrics.
With advanced training in laparoscopic and bariatric surgery, Dr. Jaronczyk is part of the growing community of surgeons now using the Titan SGS® in sleeve gastrectomy. He said he appreciates the value of the Titan SGS in "saving precious OR time." Because Titan SGS takes approximately half the time to create the staple line, it can also potentially improve procedure time and operational efficiencies.1
If you would like to join the growing community of bariatric surgeons using Titan SGS, request training at https://lnkd.in/dKgChxcp.
#thestandardsleeve #sleevegastrectomy #bariatricsurgery
1. Varban, O. A., Niemann, A., Stricklen, A., Ross, R., Ghaferi, A. A., Finks, J. F., & Dimick, J. B. (2017, Aug.). Far from Standardized: Using Surgical Videos to Identify Variation in Technique for Laparoscopic Sleeve Gastrectomy. Journal of Laparoendoscopic & Advanced Surgical Techniques. Part A, 27(8), 761–767. https://lnkd.in/dec4y67K