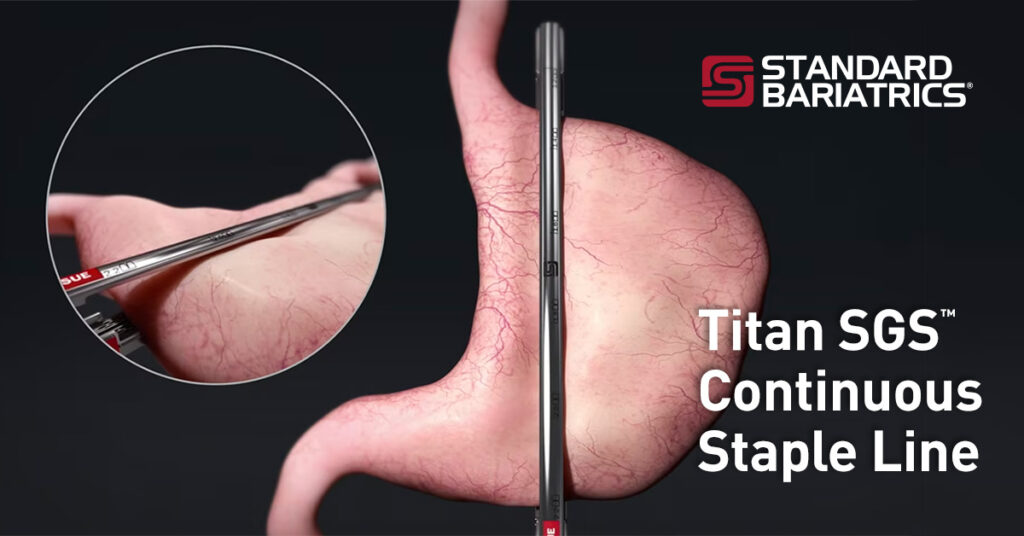 Titan SGS™ from Standard Bariatrics® Previously Cleared Under New Class II Guidelines
Cincinnati, Ohio – October 29, 2021. This month, the US Food and Drug Administration (FDA) issued guidance on surgical staplers and staples for internal use. Learn more about the new Class II designation for surgical staplers, including the FDA's recommendation for labeling regarding risks associated with staple line crossing. Titan SGS™ from Standard Bariatrics® was recently cleared by the FDA under the more stringent Class II guidelines.1
The new guidelines include labeling recommendations that cover the risks specifically associated with the crossing of staple lines. The Titan SGS 23 cm continuous staple line enables surgeons to plan and place staples in one firing, minimizing variations often associated with the current use of multiple overlapping short-cartridge staple firings.2
"We started designing technology specifically for the stomach and ultimately created the Titan SGS stapler, an innovation that can improve patient and surgeon experiences," said Jonathan Thompson, MD, Founder and Chief Medical Officer of Standard Bariatrics. "Inventions like the Titan SGS demonstrate Standard Bariatrics' ongoing commitment to create solutions that can lead to more consistent and repeatable bariatric surgery outcomes."
About Standard Bariatrics, Inc.
Standard Bariatrics, Inc., is a Cincinnati-based surgical procedure company focused on the innovative development and commercialization of medical devices. Driven by a passionate group of surgical innovators, the company continues to release surgical solutions designed to address significant market opportunities. A seasoned team of medical and management professionals, Standard Bariatrics has more than 175 combined years of experience in developing and commercializing novel medical device technologies with a record of achieving both clinical and economic excellence for patients and providers.
For more information, visit http://www.standardbariatrics.com or call 513-620-7751.
1 Indications for Use, K210278: "The Titan SGS linear cutter is intended for longitudinal transection and resection of gastric tissue for sleeve gastrectomy pouch creation."
2 Firing avoids consequences of overlapping staple lines, including malformed staples, potential leaks and bleeding. Internal data on file. 2020.



Media Contact
Ronald Galovich
Chief Commercial Officer, Standard Bariatrics®
513.620.7751
ron@standardbariatrics.com